Moderator: robert.ghilduta
ATSC signal from bladeRF on the spectrum analyzer.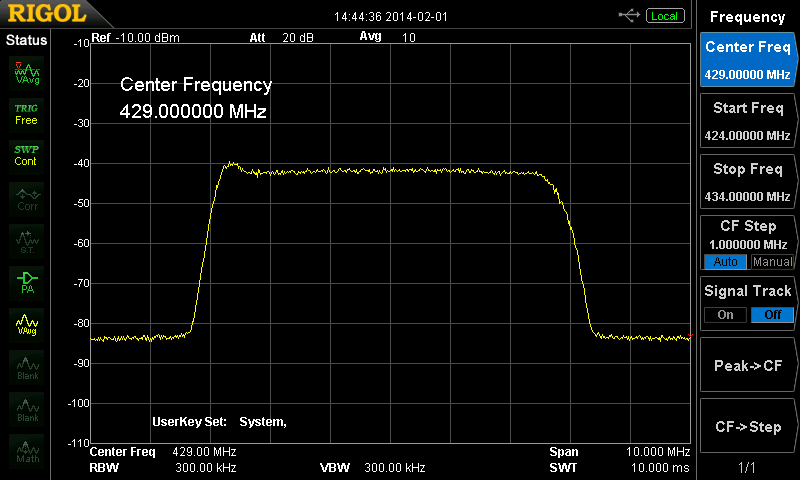 Ron
---
---
---
---
Managed to get live 1080i60 video and stereo sound OTA with the BladeRF. Complete with (semi) valid PSIP data and all. I wrote a
horrible how-to here
if you want to give it a shot.
---
Posts: 3
Joined: Tue May 27, 2014 3:33 pm
I've been using the combo of the BladeRF and this script to do ATSC testing on our Roku TVs now for several months. I had one question -- if I use this script with a transport stream that was originally captured as a low-bitrate subchannel, it looks like there's no padding inserted, so our TV plays the video at a high speed. Does anyone know of a good way to insert padding into the TS so it wll play at the proper speed? Doing it automatically as part of this script would be excellent.
---
Posts: 3
Joined: Tue May 27, 2014 3:33 pm
A quick followup -- after some research, I finally found a tool that would pad the TS with null packets, TStoATSC from
http://www-personal.umich.edu/~balazer/tstoatsc/
. It only had a Windows executable, but it didn't take too much effort to port the command-line tool to unix, but it's still awkward to use. I think a better tool would be to update the GNU Radio ATSC module to include a "padWithNull" block that could be used on the TS input before going into the pad() block, and I might work on that in the near future.
---
TCP/IP encapsulation, what would it take to wrap internet traffic so it could be send along with a digital video transmission? perhaps as one of the sub channels along with actual video.
---
Do you mean PSIP data? You can send a live TS with most PSIP tables using OpenCaster. I have some (old-ish)
configurations here
as nobody seems to have posted any online. With these, you can send EIT/ETT (EPG) tables, along with the basic TVCT/MGT/etc.
I've done tests with live video using ffmpeg at 480i, 720p60, 1080i, and 1080p24; with and without audio-only subchannels. Works very, very well.
Subchannels are designated by the TVCT, and PAT (Program Association Table). I have not uploaded a multi-channel configuration, as I am working on a web-based EPG/PSIP generator that will do all of the "hard work" for you. Once it's in working condition, it will be in the same git repo as the linked code.
---
drmpeg, I see in your first post a listing for QAM modulations. has a transmitter been established for such modulations? I'm curious if they could be used for digital amateur radio television.
---